Bob's Discount Furniture Woburn, MA Presidents Weekend
On Presidents Weekend, you can find me at the Bob's Discount Furniture in Woburn, MA. When I am at Bob's creating balloon art, memories, and more. Woburn is outside of Boston and perfect location to see Boston Balloon Art by Jonah. I will perform for all patrons of Bob's from 11:00-3:00 pm Saturday- Monday. I will be in the freebies section towards the back of the store creating amazing balloons. The freebies section has cookies, candy, ice cream, and more.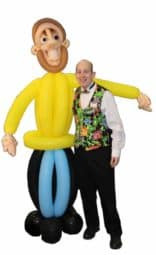 What Can I Make
At Bob's I can make sculptures that are more complicated than when I am doing crowd work such as at the Boston Red Sox. I am also able to take challenges. While I have some regulars who will come in and challenge me to make things that I did not even have on my radar. Seeing me in person can be your chance to give me the best challenge you have got. This balloon artist loves challenges as it keeps me involved in my work and on my toes. My favorite part is the reactions of people when I create things that they did not expect I could create. Also, if it is slow I may build something really big.
Why Should I Visit
Visiting Bob's Woburn is a great way to see me in action. Also, to determine if I am a good fit for your next event or promotion. Going to Bob's on Presidents weekend is a great way to get a balloon sculpture without the wait. You get my undivided attention well I make your sculpture(s). This is the weekend that Bob's opens new stores around the United States. Sometimes they have have give aways for those who come in and visit. So worst case you get an ice cream and a balloon.
The Details
When: President's Weekend 2018 Feb 17-19 11-3pm
Where: Bob's Discount Furniture
Who: Jonah's Twisters performs
Deal: Bob's Discount Furniture has Everyday low prices no gimmicks
Contact: Jonah or Bob's Discount Furniture Woburn if you have a question.