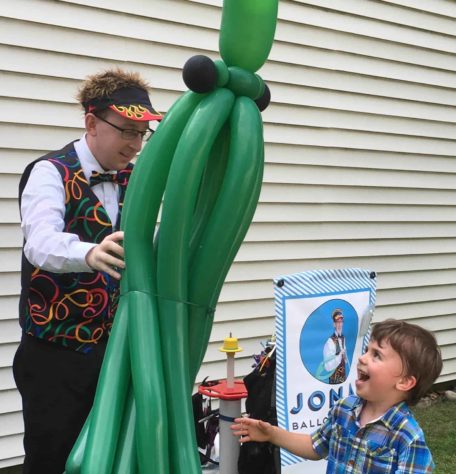 Birthday Party
Jonah is determined to go above and beyond to make your event special. From connecting you to other local entertainers to delivering hand-designed balloon creations, he can transform your event from routine to remarkable! Take a look at a gallery of his past work, then call to discuss your ideas.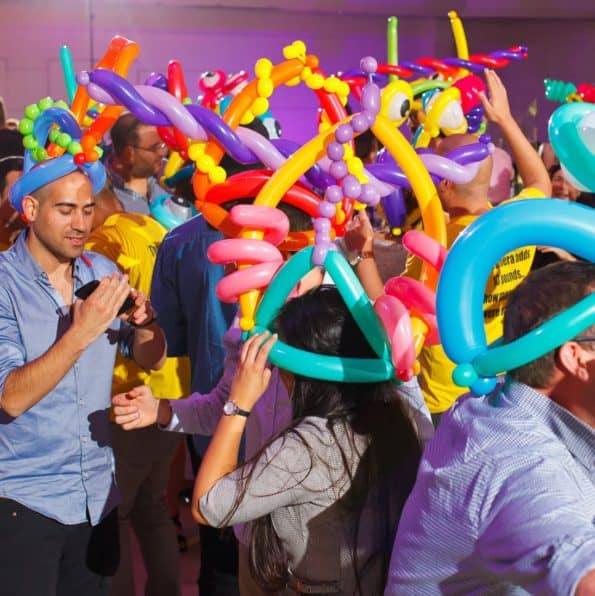 Wedding/Dance Floor Entertainment
Do you want to make your dance floor the place to be? Well, now you can with the amazing dance floor experience. This entertainment will not only have your guests excited and dancing.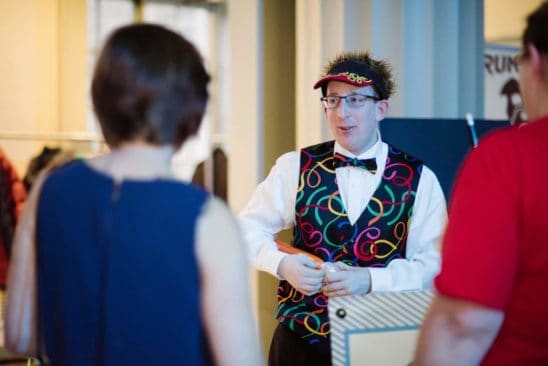 Corporate Parties
Does your company have a cocktail hour at the end of the workweek? Well, Jonah has entertained at several company social hours and can make yours amazing. Guests can ask Jonah for anything and he will try his best to make it. Guests enjoy trying to stump Jonah.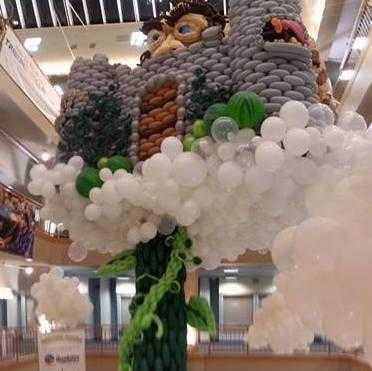 Custom Pieces
When you're busy planning and executing the other elements of your personal or corporate event, allow Jonah to deliver your centerpieces or other decorations. Jonah has worked on sculptures of all sizes.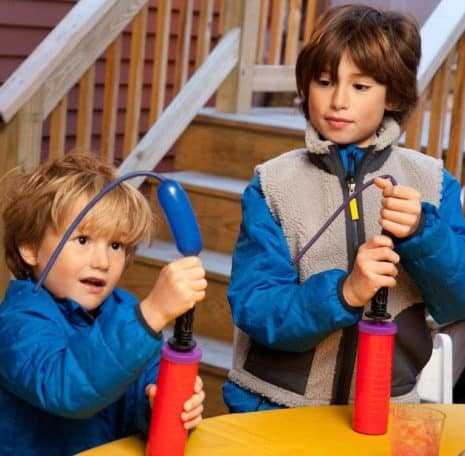 Balloon Twisting Workshops
Jonah also offers a balloon twisting workshop that teaches the students how to make their own balloon sculptures. Jonah shows some techniques and then lets the students make their own creations. Jonah is developing an instructional kit that will go along with the workshop.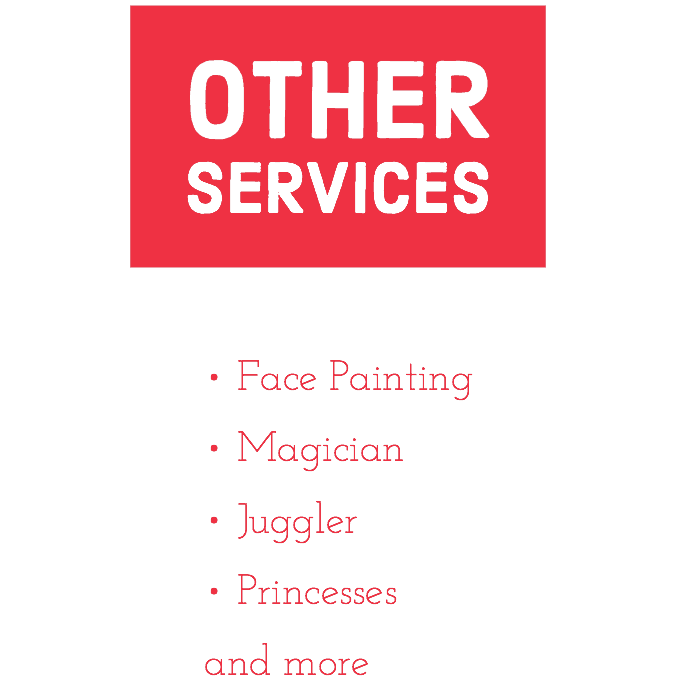 Other Services
If you are looking for something else, we have a network of various other services that we can provide. Those services include princesses, face painters, clowns, stilt walkers, magicians, and more.
Buzz About Jonah
Testimonials
Anna-mary G.- It's My Heart New England
"The balloons were awesome, Jonah's personality was fun, and everyone really enjoyed the whole experience! He was on time, got right to work, and even stayed a few minutes past his stated hours to fix a broken balloon, making one special girl very happy!"
Pat G.
"Jonah is amazing – he has done three events for us. He does a wonderful job making balloons for children of all ages. He is always the center of attention and no one walks away without an incredible creation. He is on time, very upbeat and never disappoints. Call him for your next event, you will glad you did!"
Mindy C.
"Jonah was very easy to work with for our wedding reception. Our guests, young and old(er), enjoyed the balloon art!
Linda G.- Simmons College
"Jonah is an amazing and professional artist! He was prompt in his replies and very organized with regard to the booking confirmation. He arrived on time and was ready to perform his balloon artistry for a wide range of children at our Alumnae/i holiday party. From infants to teenagers to parents, Jonah amazed each lucky recipient with a uniquely fantastic balloon creation. I highly recommend Jonah for any special occasion, because, balloon creations are not just for children!"
Diane H.
"I heard nothing but GREAT reviews about your happy disposition and your fantastic twisting ability! Everyone was very happy to have you here!"
John F.
"Jonah is great! Over the past few years, I have been setting up tables at various outdoor town festivals and fairs to promote my services to attendees. I hired Jonah to twist up balloons for the children as I talk to their parents about my business. Jonah always arrives on time and works through the entire time hired. He stays true to his quoted rate. He is great with kids. His balloon creations are always better than the other twisters that may be at the same event. He definitely creates a buzz that helps me talk to more people. I hight recommend hiring Jonah (just not when I need him)!"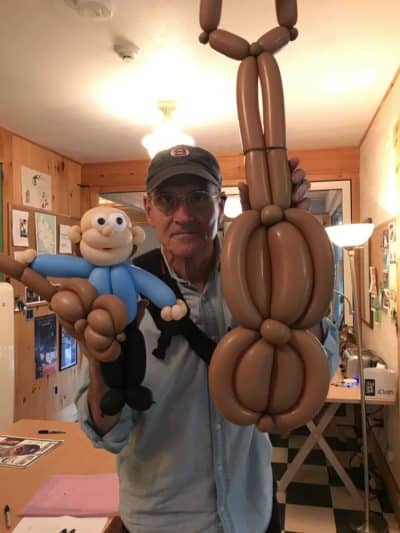 James Taylor
Facebook Post- "Jonah Faigel, who owns Jonah's Twisters, made these amazing balloon sculptures of James and his guitar. There's even a blue shirt!"
Carol C.
"Jonah had the children absolutely mesmerized. He created all their favorite characters and provided them with balloons to create their own after he was gone."
What is Jonah up to?
List of public appearances for Boston balloon artist Jonah's Twisters
Jonah appears at Fenway Park before and during baseball games. Check back for 2020 appearances.
Jonah with a balloon Wally[/caption]
Jonah performs at Bob's Discount Furniture in Woburn, MA President's and Labor Day weekends Saturday through Monday 11-4 PM. 
Jonah will be performing on Tuesday October 22nd at the Burlington Mall Microsoft store for their surface device launch party from 4PM-6PM. 
Jonah's Twisters is thrilled to return to many private events in the greater Boston Area. 
Jonah performed at the Boxford Library for their Spring Egg Hunt.
The event was Thursday, April 11, 4-5:15 at the event is at the Boxford Library/Town Hall. 
Jonah appeared at the 200th Topsfield Fair in 2018.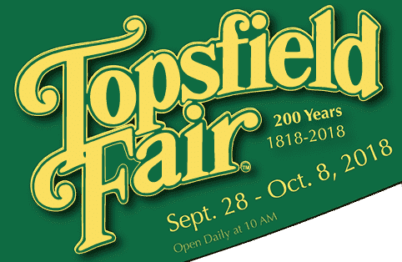 Jonah performed in Wakefield, MA for the North Ave, block party on April 13 1-3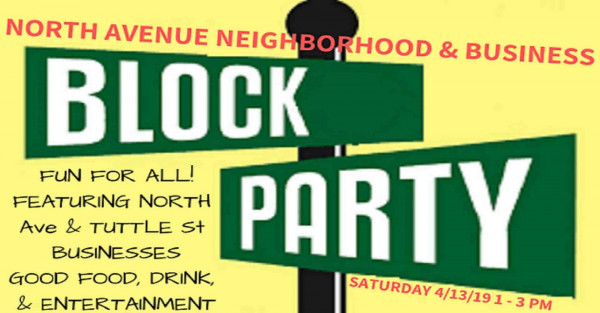 Jonah has appeared on the DIWHY Show several times. This time you can be apart of the whole experience. The event was Thursday, April 25 2019, at 8 PM at ONCE Somerville. 156 Highland Ave, Somerville, MA 02143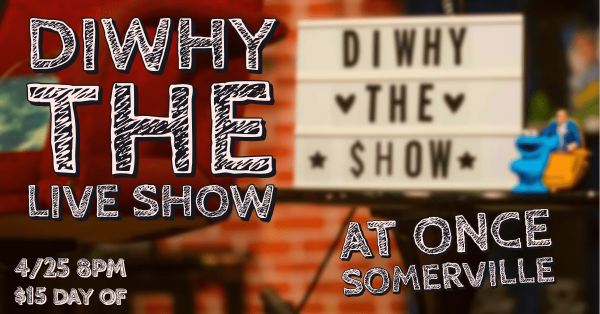 Jonah has donated his time and supplies to perform for participants of the  Step up for Colleen event.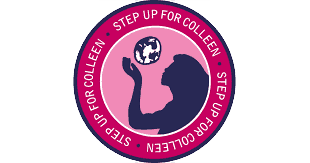 Jonah performed at the 2019 Woburn Relay for life sponsored by Northern Bank of Woburn.
Jonah performed for his fourth year at the 2019 It's My Heart New England walk at Endicott Park in Danvers MA.