Who is Jonah Faigel Part 2
In more about Jonah, we discuss how Jonah got his start as a Boston, balloon artist. When Jonah was in elementary school, he learned the basics of balloon art from a family friend. He continued to practice and amaze his friends. When he was in high school, he got his first paying event. He met a group of local balloon artists.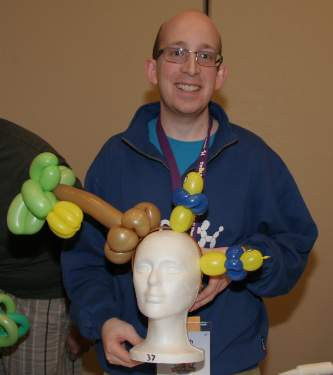 Jonah met Royal and Patty Sorrel famous balloon artists who showed him techniques. They also introduced him to their balloon twisting convention "Twist and Shout." He has now attended the convention seven times.
More about Jonah Continuing Education
Although, Jonah got his start in balloon twisting in elementary school. He is still very much learning about balloons and the industry. The balloon industry is always innovating with colors and products. This allows him to be continuously improving his balloon creations. An example is headbands which are a balloon sculpture on a plastic headband. His quest for improved results in your events being better than if you had hired any balloon artist.
Balloon Jams
Jonah still attends meetings of balloon artists called jams. Balloon jams are where the balloon artists hang out and create new designs. The artists may also work on improving a sculpture they are working on. He helps out local balloon artists who need assistance with designs or other work. He continues to next work with other local, national, and international balloon artists. If Jonah's Twisters is unable to handle a project, we can refer you to or bring in another performer. Sometimes he organizes jams and would be happy to have you come and try for yourself.
Questions asked to the artist: Do your fingers hurt?
When Jonah is asked if his fingers hurt at events. He responds with, "Are you supposed to be able to feel your fingers." The response is a groan or a laugh. The truth is no as he ties the knot on his fingernail very quickly. During the creation of a sculpture, he mostly uses his whole hand to make bubbles and twists. This technique reduces the weight and strain on his fingers.
Questions for the Balloon Artist
Do you have a question for or about Jonah? We would love to hear from you. Please use the form below to contact us. Thanks for reading.