We have three services that have no contact. Please reach out for more information or read below. 
Jonah is providing deliveries for any and all within 15 miles of 01760. The deliveries are dropped off in a bag and inflated by pump. 
Do you have a loved one who has a birthday or other event? Are you unable to go? Well, Jonah can create and send you a video greeting to send to anybody. Use the contact form below to reach out. This service is free for the time being. (Subject to change)
Online Livestreams and Classes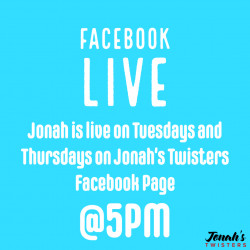 Jonah offered livestreams on his facebook page from March to June 2020. You can see reruns on the video tab or below. If you would like to see more facebook lives, let Jonah know and he may consider it. He is also running balloon twisting classes by request online. This service is free and will remain free.