Custom Balloon Sculptures

Custom Sculptures
Does your event need something to make it pop, but not entertainment? Jonah can build custom sculptures suited to your event. Jonah can build a likeness of the guest of honor of your event. The likeness can be a table decoration or the actual size of the person. Jonah can also build photo frames themed to your event for guest to pose in and take pictures and selfies.
Themed Pieces
Jonah can also create a display piece based on the theme of your event. If you have a mermaid party Jonah can create a mermaid centerpiece to sit on a table. Imagine having a giant Hulk to pose next to at a superhero party. The possibilities on what Jonah can make for your event are endless. Jonah has done many custom pieces and looks forward to working with you on your piece. Custom pieces can be created on site for guests to watch. Builds can also be designed to allow the guests to participate by having them create elements themselves.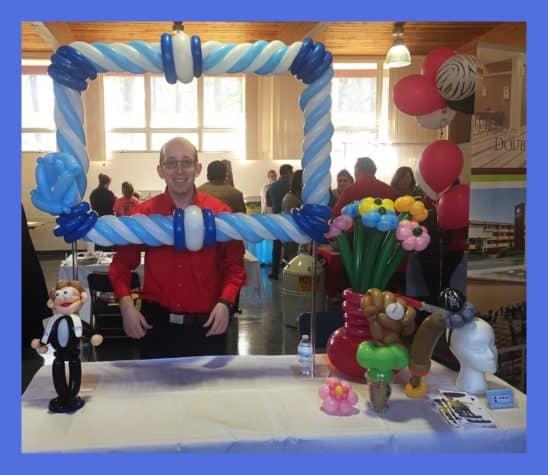 Delivery
Well if you order a custom sculpture Jonah will deliver it to your event venue for you. Jonah can also deliver the sculpture to the intended recipient at their place of work or house. Instead of sending flowers for someone's birthday you can send balloon flowers. He will set it up and make sure that it is perfect. Depending on the location of the event there may be a delivery fee. For custom sculptures that are for an event, Jonah is performing at there is no delivery fee. If needed a pickup will be arranged.
Size and Price
The customer decides the size of the sculpture based on how big they would like their sculpture to be. The sculpture can be small to five stories tall. Any sculpture over eight feet requires a way to secure it from the ceiling. Pricing is reflective of size and time to build the piece. Custom sculptures do require planning before construction. Please, allow at least two weeks lead time for your order. Contact us today.